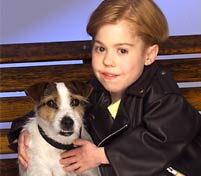 This page includes pictures and comments from the cast of Passions about Josh Ryan Evans, Timmy on Passions. He died August 5, 2002 the same day as his character Timmy. Passions never dedicated an episode to him but I want to dedicate a page filled with things about Josh, our Timmy.
Juliet Mills (Tabitha) :
There's so much to say; it's hard to know where to begin. It is a very hard time for me, having to go back to work and knowing he isn't coming back to work. He's still very much there in my mind and my heart. Josh and I both realized we were very fortunate to work together. We had such rapport and we were so fond of each other. It wasn't difficult to do the scenes we did and have the fun we had, and let everyone who watched share in it.

I believe in reincarnation-all the things Tabitha believes. I believe we come back many times to perfect the soul. I believe that the physical body is just an overcoat to the soul and that the soul goes on. I know that he's around. I also believe that if you want to have a validation for that belief, you'll get one. There are signs-a sudden gust of wind when there is no breeze or a butterfly landing on your shoulder. I was walking in the park very early in the morning a few days after Josh had passed. I was saying, "Come on Josh-give me a sign." And this snow white egret flew right beside me along the running track. I've never seen a white egret in the park before. I just took that as a sign. I said, "That's it. Thank you, Josh." If you are looking, you just might see something and it's a comfort. That makes it a little easier to deal with. I believe that he's with us. All of us that loved him have another guardian angel up there.

Josh always wanted to be a star. He drew a star on all his autographs, along with his motto-"Dream Big." Since he was a little boy of five in hospitals having endless heart operations, he started to watch TV. He became a great movie buff. That's what he decided he wanted to be and do. He wanted to entertain and give people pleasure. Who would have thought that a little boy of 3 foot 2 could become a household name and have done such great work? But he did. He left his mark. And he gave a legendary exit. That was very "starry" of him-to die on the day that Timmy died. It's almost like he orchestrated it! I could believe he would-he was a very powerful human being. He was a fairy person-a little fairy person. He believed in magic and he made magic happen.

I have a truckload of wonderful memories of him. And he'll be with me always.

Ben Masters (Julian) :
In life, you come across people who are extra special at different times and you realize that you are in the presence of someone who is extra special. I believe that Josh is one of those people. I believe that the courage that he possessed and the courage that he used in life is something that we should all hope that we have a fraction of in our own lives. He was a remarkable young man who did not get to live long enough, and I loved him.

Bruce Michael Hall (Reese) :
Josh was such a sweet guy and I'm going to miss him. I spent three years chasing him around Harmony! Those scenes were so much fun-they were my favorites. A funny story was when Kay crawled into my sleeping bag and I had the kissing scene with Josh. For days before we did it, I kept teasing Josh that I was going to plant one on him! He was like-no! When we did it, he turned around in the sleeping bag and I had an arm around him. He was trying to wiggle out. They called cut and I pretended I was asleep. He was just a really nice guy...the best. I'm going to miss him.

McKenzie Westmore (Sheridan) :
Josh was such an amazing human being and was such an inspiration to me, and to everyone. He knew how to live life. He had such a huge heart. He inspired me to live life to its fullest--that nothing can stop you and that dreams are achievable no matter what. Josh was someone who proved that nothing can hold you back and nothing can stop a dream. He inspired us every day with his work and with his smile. I know that he's watching over us. Heaven was made for people like him.

I've been thinking a lot about the scene we did together, when Timmy kisses Sheridan. I got to know him so well that day. His mom kept telling me that he was nervous because it was his first kiss. But really, it was an honor for me.

Rodney Van Johnson (TC) :
Life is very personal to me, but I would like to extend my prayers to Josh and to his family. He was the show and he is sorely missed. But I know he is in a much better place now. He's happy and it's all good. He's at peace.

Eric Martsolf (Ethan) :
As a very new member to the cast of Passions, I only knew Josh for a wrinkle of time. But that was all it took for him to make a very lasting impression on me. I've never come across so much charisma, insight, sensitivity, and courage rolled up into such a small package before. I regret that I will be unable to share my work space with him again, but I know his spirit will envelop that space from this moment on. God bless you.

Galen Gering (Luis) :
Everyday on my way to and from set I pass Josh's room. And boy did he love Star Wars. Honestly, in my whole life I'd never seen so much memorabilia. I would always joke that if he were late to set we should just check his room 'cause he'd most likely just been buried under an avalanche of Yoda, Princess Leia, and Han Solo figurines. I wish that's where he was. I wish we could go in there and rummage around until we heard his little laugh (Josh had the best laugh) and pull him out from under a pile of Lucas collectibles and tell him, "Josh, I told you this was gonna happen someday," and watch him run off to set to act, that which he loved to do best. But alas, we can't.

Now when I pass his room it's very different. There is less stuff. Gone is the fantasy and mysticism. It's been replaced by flowers and candles and poems and words of sympathy that are supposed to make us all feel better somehow. But they don't. They make me feel worse. They are confirmations of this sad reality, the fact that he's gone. I know I should take satisfaction that he was a part of my life and I got to share in his laughter and joy. It's just hard. It's so easy to say 'everything happens for a reason' and he was sent here on a mission and whatever his job was it was done. But again it's a whole other thing to really subscribe to it.

One of the worst parts about losing someone suddenly is that you never feel you got to say enough to them. Or perhaps you said too much. I dunno, It's just never right. I don't even know what I'd say to him if I had the chance. I guess I'd thank him. Yeah, I would. Not only for touching me, but thousands of others. He was an inspiration. A leader who led by doing. Someone with strength and courage far beyond his years. He will be missed by his family, and his Passion's family, and his friends throughout the world.

And to Josh, if you can hear me, I'm happy for you because I know you're in a peaceful place, but trust me when I say we wish we had you back.

Deanna Wright (Kay) :
The first time I met Josh, I'd only been on the show for about a week or two, and I was forever getting lost on the sound stages. (It gets confusing, because they always move things around and change the sets). After opening my fourth wrong door, I asked no one in particular, "How the heck do you get out of here?" Josh came walking up and said, "I'll make you a deal-if you open all the doors, then I'll lead you out." From that first meeting, I knew Josh had a very special spirit, and over the next two years working with him, I learned more and more about him that confirmed my first impression.

For many reasons, Josh was the most inspirational person I've ever met. I never heard him say a negative word about anyone or anything-except maybe 6:30am calls to make-up. He could have chosen to be a victim of his size. Instead, he chose to turn it into an asset to help him achieve his dream, which was simply to make others happy by taking them away from their problems. He succeeded brilliantly.

His fans, he touched through his wonderful character Timmy. His coworkers, he touched by being himself. Despite his height, he was so much larger than life. Whether he was doing a one-man entertainment show (which he did very often!) or joking that he didn't drink coffee because it stunts growth, he usually commanded the attention of everyone in a room with him.

He didn't know it, but he taught me that no matter what stood in my way, I could achieve my dreams. He had such a generous spirit and my hope is that all that knew him, loved him, and learned from him can pass on the gifts he gave us to the rest of the world. Because that way he'll live on within us forever. I miss you, Kiddo!
Robin Strasser (Hecuba) in an interview talked about Josh Ryan Evans:

Obviously things are different at "Passions" this time around, as we've all experienced the loss of Josh Ryan Evans. What has that loss meant to you?


I can't possibly put into words how I miss the opportunity to be working with him. I've had in my day-runner the page from "Soap Opera Digest" where Josh and I are "Best Scene Stealers." I've carried that page since it came out. I've had Josh close to me. The news of his death was devastating. I want to tell a story, because it's important to keep people alive in our minds and our hearts. Josh was a very generous professional. During one scene, Josh, Juliet, and I were sitting on a small love seat having Martimmies. I was supposed to break my Martimmy glass by throwing it. It was fake-it was made out of sugar. I threw the glass with my right hand. At the last minute, the director asked if I could throw with my left hand. I threw it and it somehow hit Josh in the forehead. There was a little mark on his forehead. It was decided to stop the scene and take him to the Emergency Room. I could not move; I was so upset. He came back on set later, raring to go, and gave me a big smile. I couldn't apologize enough. And he just said, "This stuff happens. That's why they call them accidents." That's the kind of guy he was. I asked his mother afterwards what I could do for them. Finally, she said he loves salsa and chips from a certain restaurant. So, I had salsa and chips sent to him with a note. But that's who he was. Thank you Josh, for your incredible, classy grace. His soul was revealed to me that day.